Cardiology
The QVSH Cardiology Service is focused on diagnosing and treating acquired and congenital heart diseases in dogs and cats. We have a team of two cardiologists, both ECVIM (Cardiology) and RCVS Recognised Specialists in veterinary cardiology.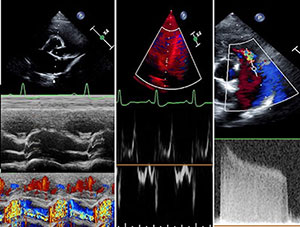 Before your referral appointment, we can offer advice on radiographs, ECG recordings or echocardiographic images. We are also always happy to accept emergency cases. Please contact us via the QVSH reception (01223 337621) or email hospital@vet.cam.ac.uk
We accept referrals of any type of cardiology case, including work-up and/or treatment of:
-       Heart murmurs
-       Cough
-       Dyspnoea
-       Exercise intolerance
-       Arrhythmias (diagnosis and treatment, including direct current cardioversion)
-       Acute and chronic congestive heart failure
-       Pericardial effusion
-       Acquired and congenital heart diseases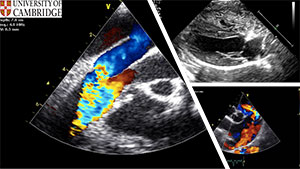 In order to offer the best care possible to our patients, facilities at the QVSH include:
-       Doppler and tissue Doppler echocardiography
-       12-lead electrocardiography (ECG)
-       24-hour, 48-hour and 7-day Holter ECG monitoring
-       ECG event record implantation
-       3D transoesophageal echocardiography
-       3 radiography suites
-       16-slice computed tomography (CT)
-       and in the near future facilities for 3 Tesla magnetic resonance imaging (MRI)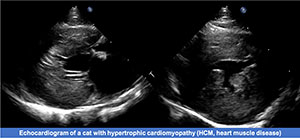 Interventional cardiology 
We also have particular interests in the minimally invasive treatment of congenital heart defects and bradyarrhythmias. We are happy to perform several minimally invasive cardiac interventions, including:
-       Balloon pulmonary valvuloplasty for treatment of pulmonary stenosis
-       Patent ductus arteriosus occlusion using Amplatz canine duct occluder (ACDO) or coils
-       Pacemaker implantation.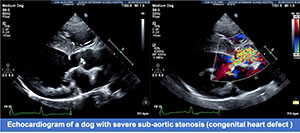 Training
We will soon open a 12-month cardiology internship program, and we are aiming to have an ECVIM approved cardiology residency program in the next 1-2 years.
Research
The cardiology service at the QVSH will also be actively engaged in clinical cardiology research. Our areas of research interest are primarily feline cardiomyopathies and echocardiography.
We have already established two research projects which are in collaboration with other veterinary schools in the UK and Europe.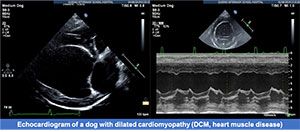 Common congenital and acquired heart diseases in dogs and cats